READ
OUR BLOGS!
FULL FIBREGLASS RESURFACING
Reef Pools is the leading provider of professional fibreglass pool resurfacing in Brisbane, Queensland. From osmosis correction to cracks and leaks repair, we will bring your pool back to life with brand new aesthetics and improved strength.
Our skilled team will renovate your pool in the most cost-effective & efficient manner. Regardless of where you live, we will travel to renovate your pools up to and including SEQ, Gold Coast, Sunshine Coast, and Northern NSW.
100% Results with Industry Best Pool Resurfacing Quotes and Warranty
Under our flexible payment option that will cost you as low as $80 per week for 18 months, you will get a:
A completely osmosis resistant pool.

Brand-new like pool with no chalking, colour distortion and bulging walls.

Improved structural strength.

Waterproof, leak-proof, and crack-free pool within 14 days.

A fully refurbed pool with brilliant sheen and easier maintenance.
Plus, we stand by our work and provide you with a 5-year warranty on completion.
REEF POOLS - Fibreglass Pool Resurfacing Process
Step 1: Emptying the Pool and Inspection
---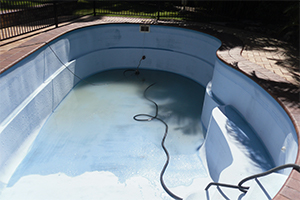 A day before we start our actual pool renovation process, we will drain your pool, give it a full assessment, and position the necessary equipment/props into place in order to prevent the pool from popping up while the pressure from the water is removed.
---
Step 2: Full Sanding
---
The pool is then cleaned and sanded or rubbed back to remove the deteriorated top coat and tiles (if requested) to prepare it for a new gel coat.
---
Step 3: Blister and Osmosis​ Fixing
---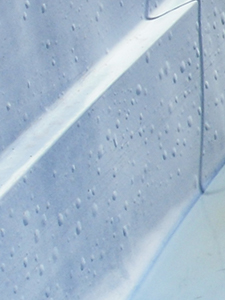 We cut all blisters and remove all the osmosis to keep it from coming back.
---
Step 4: Bound pool
---
We apply a marine-grade plasto cement to the osmosis areas and sand it to smooth the surface.
---
Step 5: Apply a Layer of Vinyl Ester Resin​
---
We refill all gaps and apply one vinyl ester resin coat of approximately 100 to 120 mils thickness to maintain its flexibility and to make it waterproof.
---
Step 6: Laminate with Fibreglass Mats
---
We apply a layer of 300gsm of fibreglass mats to add to your pool's structural strength and make it resistant to water leaks.
---
Step 7: Base Coat
---
A primer base coat is applied
---
Step 8: Final Top Gel Coat
---
A final base coat and a top gel coat of your colour choice are applied.
---
Step 9: Pool curates for 7 days
---
The new pool paint needs to dry and stay without water for 7 days before the client can fill up the pool.
---
---