READ
OUR BLOGS!
TOP-COAT POOL RENOVATION
Got an ageing fibreglass pool with surface cracks and colour deterioration? Want to get a complete pool renovation service with minimum fuss and without over blowing your budget on a new one? Contact Reef Pools.
​
We are fibreglass experts based in Queensland and specializes in fibreglass pool renovation in Brisbane, Gold Coast, Sunshine Coast, SEQ, and Northern parts of QLD and NSW. We provide homeowners with a full array of pool repairs including crack correction, sanding, waterproofing, and overall top gel coating.
​
Our proven pool renovation process is guaranteed to give your pool a new life along with saving you time and money while adding value to your property.
​
Industry Best Results with Flexible Payment Option & Extended Warranty
Under our pool renovation service, our highly experienced pool renovators will:
Remove all the traces of top coat deterioration

Complete crack, leak, and spot removal from your pool

An aesthetically pleasing, fully finished pool within 10 days!

Extended life of your pool with improved structural strength

Easier maintenance and lower running cost
​​
Aside from unbeatable pool renovation, we also provide our clients with payment option starting at $50 per week for 18 months (require a deposit and eligibility requirements) along with a 2-year warranty on all our products and services upon completion.
REEF POOLS - Swimming Pool Renovation Process
Step 1: Complete Pool Inspection and Draining
---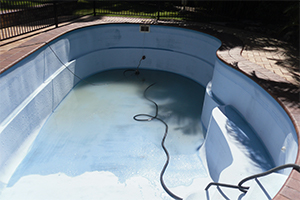 Before starting with our renovation process, we will empty your pool to give it a thorough inspection to detect the damages.
---
Step 2: Full sanding
---
The first step after damage examination is to remove all the deteriorated top coat and tiles (if requested). Once complete sanding is done, we again inspect the pool for inner deterioration. If we find traces of osmosis or other structural decay, we would recommend you to switch from the renovation service to a full resurfacing as the fibreglass is not waterproof anymore and would need resurfacing to prevent it from leaking and blisters.
---
Step 3: Fixing surface cracks
---
The following step is to detect and fix even the smallest of the surface cracks and prepare the pool for final top gel coat paint.
---
Step 4: Final top gel coat
---
We apply a primer, base coat and finish off with your chosen gel coat colour.
---
Step 5: Pool curates for 7 days
---
Pool needs to dry out for 7 days without any contact of water to make sure that paint has curated properly before the client can refill it again.
---
---